January 4, 2023
If you're looking for a great vacation place, go no further than San Diego. The variety in San Diego neighborhoods is nearly ideal, with the city's abundance of world-class museums, professional sports teams, and beautiful beaches.
However, the city is quite large, making it impossible to see everything in a single visit. You might just love the neighborhoods so much that you will decide to move in San Diego. Let's take a look at the major areas of San Diego that will help you with your vacation planning or relocating to this city.
Firstly, let's start with look at San Diego itself
As the southernmost city in California, San Diego enjoys a strategic location between the United States and Mexico as well as the Pacific Ocean, making it an important hub for international trade and tourism.
With an estimated population of 1.4 million in 2019, San Diego ranks as California's second-largest city, behind only Los Angeles.
San Diego County, which includes the city proper, is the sixth most populous in the United States at 3.3 million inhabitants.
Along the 70 miles of coastline afforded by the San Diego Bay and the Pacific Ocean, San Diego boasts a landscape as varied as its population. Now that the basics are out of the way let's talk about the best places to live in San Diego.
With more than a hundred distinct communities, San Diego has more than enough housing to suit a wide range of preferences and lifestyles. As of March 2021, the average San Diego home was worth $782,000, up 15.8% from the previous year and making it tough to find. You may still find more affordable options if you are patient and willing to settle for a smaller house or apartment further inland, away from the more expensive seaside regions. And if you are moving from LA to San Diego, now you know what to expect.
Del Mar
Del Mar is regarded as one of San Diego's best neighborhoods for raising a family due to its high-quality public schools and abundance of fun outdoor-related activities. Another perk is that the city center is easily accessible by automobile. Del Mar is home to the San Diego County Fair and a number of indoor antique markets. Living there is pricey, but if you can afford it, you won't regret it.
La Jolla
It's easy to see why this one out of all San Diego neighborhoods, just a short distance north of Pacific Beach, is regarded as the crown jewel of San Diego. World-famous beaches and high, rocky cliffs provide a dramatic backdrop to this A+ area, which is home to award-winning schools and a flourishing culinary and cultural scene. One of the most expensive and desirable places to live in the United States, the median price of a two or three-bedroom home in this neighborhood is $1.9 million. There are primarily single-family houses in the area, yet the median monthly rent in La Jolla is still over $2,400.
The University of California San Diego, one of the world's leading research universities, is located near La Jolla, giving the area a significant economic boost in addition to its seven miles of spectacular coastline and natural beauty. Because of this, major biotech corporations have set up shop in La Jolla, including the likes of Scripps Research and Pfizer, whose laboratories have been instrumental in developing a leading COVID-19 vaccine.
Little Italy
After a long flight, nothing beats relaxing with a glass of wine at a sidewalk café in Little Italy, located just north of downtown and less than five minutes from the airport. At the turn of the twentieth century, when many Italian fishermen settled there for easy access to San Diego Bay, the neighborhood earned its ethnic moniker. It has developed into a bustling urban enclave, with many blocks packed with Italian restaurants of all types, from simple delis to elegant fine dining establishments. Weekly Farmer's Markets and various art and cultural events have made Little Italy a popular place to live for young professionals in their late twenties and early thirties.
The boutique hotels in the area are a welcome change from the standard hotel chains and luxury resorts that dominate the remainder of downtown. If you are considering moving to this location, you want to be sure that this is the right home for you. So be sure to read up on all the tips before moving to a new home, as you don't want to regret your decision later.
Encinitas
Swami Beach in Encinitas, which served as the muse for the Beach Boys' "Surfin' USA," is a pristine relic of the original Highway 101 beach culture. The beach is still a popular spot for surfers. Still, the city's booming population of nearly 60,000 is largely due to the attractiveness of San Diego as a place to raise a family, thanks to its excellent educational opportunities, eclectic dining options, and relaxed attitude toward indoor and outdoor pursuits.
Are you looking for a place to call home 30 minutes north of San Diego? Try Encinitas; it's in a beautiful setting but comes at a hefty price. It's hardly surprising that the average home price here is $1.4 million, but much less in the interior. There are a variety of magnificent cottages and modern condominiums with immediate beach access, but the average monthly cost is around $2,150.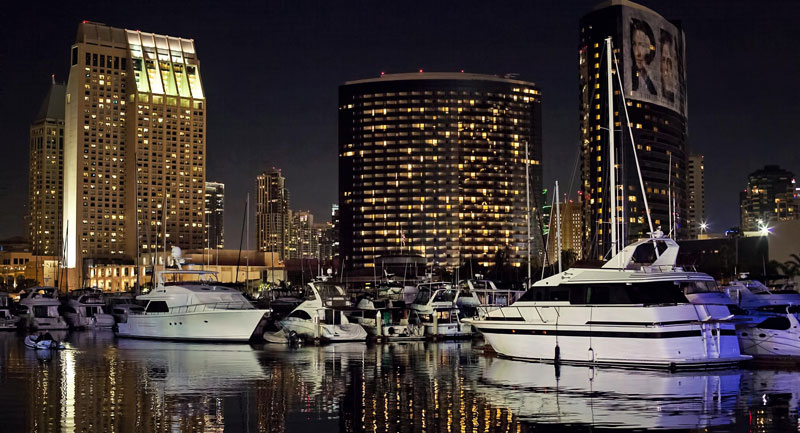 Gaslamp Quarter
The Gaslamp Quarter is one of the best places to live in San Diego because it is close to downtown and has many bars. It's perfect for those who like to have fun whenever they get the chance. Several establishments are available for entertainment, such as dive bars, lounges, clubs, and more. Almost any night of the week can feature a different exciting adventure.
If you enjoy being in the midst of a vibrant throng, the Gaslamp Quarter is the place to be. Since this is where many of San Diego's young people go to hang out and have a good time, it's one of the best places in the city for young professionals.
Torrey Hills
The official population count for the Torrey Hills area of San Diego is 4,798. Torrey Hills, found in San Diego County, is often regarded as one of the states of California's most desirable communities. The bulk of Torrey Hills' residents are renters, and the area has a mood that's equal parts urban and suburban. Torrey Hills is home to many excellent eateries, cafes, and green spaces. Torrey Hills is a safe and progressive community perfect for raising a family. Public institutions in Torrey Hills generally hold a high reputation.
Carmel Valley
Located in San Diego, Carmel Valley is home to 32,302 people. Carmel Valley, found in San Diego County, is widely regarded as one of the state's most desirable places to call home. Most people who live in Carmel Valley also own their homes, creating a dense suburban atmosphere. Carmel Valley is home to a number of cafes and green spaces. Liberal families might feel at home in Carmel Valley. The public schools in Carmel Valley have earned a solid reputation.
Miramar Ranch North
Almost twelve thousand people call Miramar Ranch North in San Diego, California home. One of the best places to live in California, Miramar Ranch North, can be found in San Diego County. Many of the residents of Miramar Ranch North are proud homeowners who contribute to the neighborhood's dense suburban vibe. In addition to its many parks and eateries, Miramar Ranch North also features a number of coffee shops. In Miramar Ranch North, you will find many progressive families and young professionals. Public institutions in Miramar Ranch North have earned a high reputation.
University City
The population of University City, San Diego, California, is 58,078. As a part of San Diego County, University City is frequently ranked as one of the state's best places to call home. Most people in University City rent their homes, giving them a somewhat metropolitan feel. University City is home to several excellent eateries, cafes, and green spaces. The residents of University City are primarily young professionals with centrist political beliefs. Public institutions in University City generally earn high marks.
Carmel Mountain Ranch
The community of Carmel Mountain Ranch in San Diego, California, has a population of 12,241. One of the best places to live in California, Carmel Mountain Ranch, can be found in San Diego County. In Carmel Mountain Ranch, most residents own their homes, creating a dense suburban environment. Carmel Mountain Ranch is home to a wide variety of eateries, cafes, and green spaces. It's no secret that liberal thinkers and young professionals alike flock to Carmel Mountain Ranch. Public schools in Carmel Mountain Ranch have a solid reputation.
Hillcrest
Two miles east of Old Town, you'll find one of San Diego's neighborhoods known for its openness and diversity. Over a hundred thousand people attend the annual Gay Pride Festival and Parade in Hillcrest, which is a testament to the city's thriving LGBT community. The welcoming and accepting vibe of Hillcrest's residents has contributed to the neighborhood's prominence as a culinary hub. If you were to ask a local where to locate the best Thai food in town, they would almost unanimously suggest you in the direction of Hillcrest. But the city's culinary scene has blossomed in recent years. Hillcrest's exceptional dining options are on par with the neighborhood's eclectic and kind personality. If you're craving Persian, French, Afghan, or Mexican food, you'll find it at Hillcrest. If moving here, it is recommended to hire professional movers for the big relocation. There are many reasons for doing so. In the end, the money you save will not outweigh the hassle you will have to go through to move to a new home.
North Park
The North Park neighborhood is on our list of San Diego's more affordable neighborhoods. If you're looking for an affordable place to live near a wide range of attractions within easy walking distance, this is it. Since it is close to other areas with comparable nightlife, you can easily switch things up whenever you desire. Events like farmer's markets and art festivals are frequently found at North Park. You can pick from several cafes and eateries at any time of day or night.
Carlsbad
Carlsbad is a major golf destination. You may spend your days at the beach or golf course, shooting a few strokes. It's also home to the thrilling Legoland theme park, which is ideal for kids and adults. If you have a family, Carlsbad boasts some of the greatest schools in the nation. Although it is pricy, it is well worth it for all the neighborhood has to offer.
San Diego Neighborhoods Conclusion
Staying in or moving to any of San Diego neighborhoods will provide you with a wonderful experience.
You may easily go from one location to another without feeling like you've seen everything there is to see. The city's reputation for vitality and variety is well-earned. It has much to offer even the most discriminating traveler. We hope this information aids you in your quest to find a comfortable home in San Diego. Always pack sun protection and cool beverages, and be ready for some serious heat from Mexican cuisine.