October 17, 2022
Your electronics are probably among the stuff you use the most. They can also be the most delicate.
If you don't move them carefully, you can be easily dissatisfied with how they arrive – damaged and broken. Who would want to see their hard-earned money going down the drain with a smashed TV or a broken laptop screen?
Ensuring that your electronic devices arrive at your destination safely isn't that complicated – and can save you a world of heartbreak.
5 Tips for Moving Electronics
Here are some appropriate packing and moving tips to help ensure the safety of your electronic items.
1. Detach Cables
When storing your computer, disconnect all of its accessories. Leaving accessories plugged in could seem like a time-saving move, but extended metal-to-metal contact can be problematic, especially in storage situations without climate control.
Place tiny colored stickers in the same color where each cord attaches to the gadget while disassembling electronics like computers, stereos, and other equipment with several connections. You won't have to worry about trying to figure out where everything goes when you reassemble your equipment, thanks to this.
2. Read the User Manual
One of the mistakes people make when it comes to electronic items is not reading the literature. You may find instructions on how to keep any equipment or appliance in its product handbook. This covers ideal temperature ranges and additional specific guidelines on what to avoid doing to your devices (vibrations, etc.).
3. Use the Right Size Box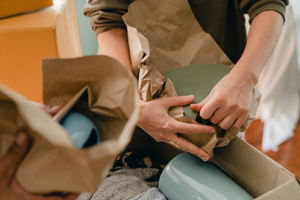 In an ideal scenario, you would still have the original packaging combined with Styrofoam inserts to protect your devices from excessive movement.
If not, you will require boxes just a little bigger than your devices. Make sure the boxes are sturdy, free of broken flaps, and without a drop-prone bottom. A second pair of hands may make moving easier, so you might consider using a moving company for packing services.
Electronics specialists advise preserving the original packaging for gadgets wherever feasible. Original boxes are great for packing and storing since they have pre-shaped foam pieces and unique inserts to prevent objects from moving during delivery. Additionally, original boxes might increase resale value, which is important to take into account if you're transferring potentially valuable things.
4. Take the Necessary Precautions
Include containers of silica gel with the original packing for storing electronics or moving them over long distances. Before moisture can build up on components and lead to corrosion, you can use silica to absorb the extra moisture. Massive flat-screen televisions may be well-protected with cushioned moving blankets and kept against a wall for support because they don't fit in typical moving boxes. Never stack something against the screen or store them flat since pressure can cause permanent harm to the electronic item or panel.
5. Mind the Temperature
Metal parts contract in the cold, weakening soldered components. During a severe cold snap, liquid crystal displays, or LCDs, might even freeze. Electronics are harmed by heat in two ways. In warmer conditions, metal parts expand, putting unnecessary strain on soldered connections. More moisture is held in the warm air as well, and electronics are fatally affected by excessive humidity. Even if you are like us and a San Diego moving company, your electronics are still at risk.
If you're storing the gadget, be sure it's in a place with a consistent temperature. Ensure the box is adequately protected from severe temperatures while traveling long distances by adding the right quantity of packing material.
Why Use a Professional Mover for Electronics?
Want to save yourself from the hassle and heartbreak of your broken or damaged prized possessions?
Hire the experts at Superior Movers to take care of all your moving needs!